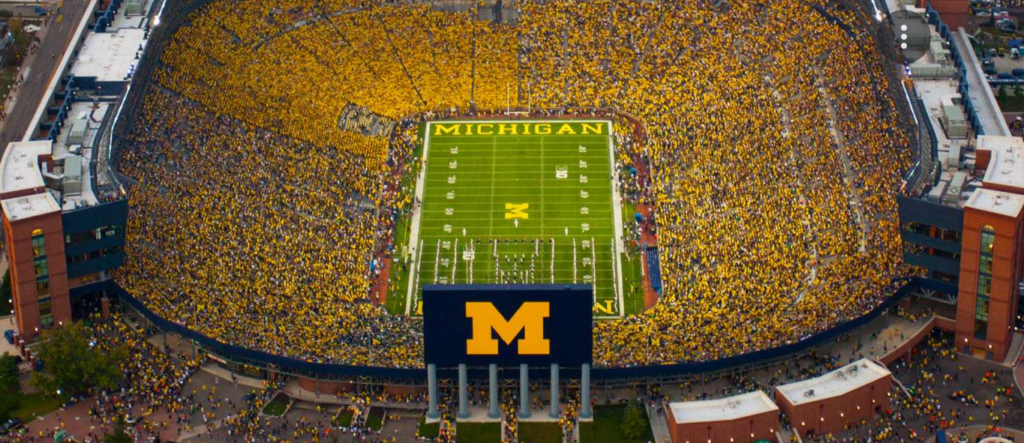 Their campus is among the most beautiful I've seen.  Their stadium, the nation's largest, is stunning.  Their fans, students, and alumni a friendly, welcoming bunch.  But if The University of Michigan has one shortcoming, it's one they don't suffer alone.  In fact, it's a blind spot that's derailed more meetings, turned off more audiences, and ruined more parties (perhaps yours?) than any other wet blanket I can imagine.  More on that in a moment…
Last weekend a few friends and I traveled to Ann Arbor, Michigan to see Penn State's Nittany Lion football team take on Michigan's Wolverines, a much hyped annual showdown that draws over 100,000 spectators. In addition to the game, a portion of our group attended a VIP fundraising banquet the night before, making this a weekend where we attended two events that shared a common objective: Deliver a world class experience that inspires its attendees to come back for more.
Both events pulled out all the stops. For the football game: A fighter jet flyover. For the banquet: Fortune 500 executives who flew in on their own airplanes. The football game: A famous DJ. The banquet: A piano player. Between the two events, one could list celebrity appearances (Michael Phelps! A highlight for me), spotless venues, and audiences excited for a big show. And for the most part both events were a hit for Team Michigan. Their football team destroyed Penn State, the banquet surpassed its fundraising goals, and I'm certain every blue and maize-clad Wolverine returned home with big smiles. But were the smiles as big as they could have been? I don't think so. In fact, if one were to poll either event's attendees and ask them to score a Pass/Fail by sense, here's what I suspect the survey results would look like: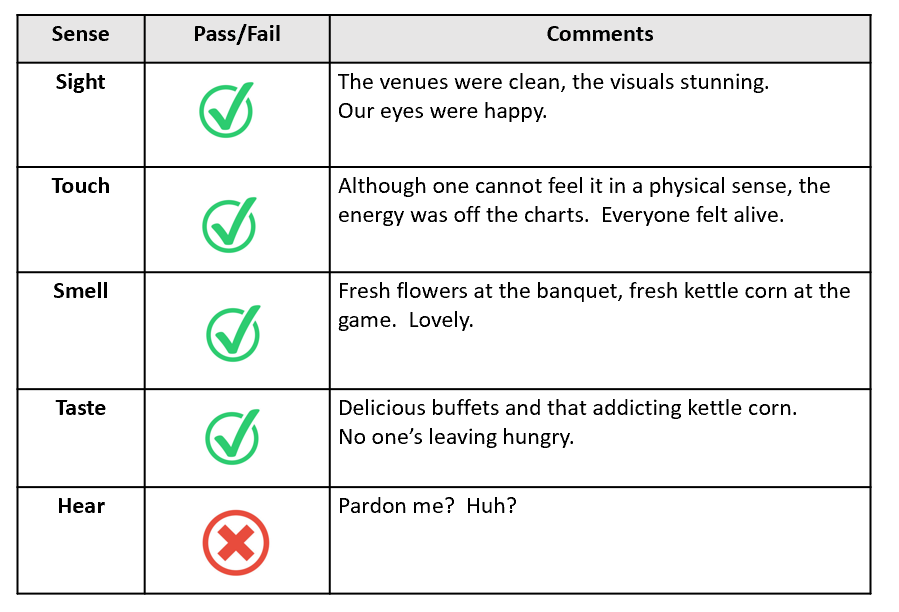 Why?
In both the stadium and the banquet room, the sound systems were weak. While both events offered dazzling spectacles, the muffled, crackling audio did not keep pace. Glancing around the venues I saw a sea of people leaning forward, strained looks on their faces, trying desperately to hear what the heck the person on the microphone was saying. "What did the keynote speaker just say?" "Who are they recognizing on the field?" "What song are they playing right now?"
Unfortunately, the waves of confusion eclipsed the waves at the stadium that the student section performed.
Living within earshot of the nation's second largest stadium, Beaver Stadium, I can attest that Penn State's audio engineers have mastered their craft. Michigan boasts a larger stadium, nicer amenities, and this year a heck of a superior football team but Beaver Stadium's body-thumping, crystal clear audio engages its crowd more viscerally than anywhere since The Beatles rocked Shea Stadium. It seems Penn State took all the money it could have invested in nicer bathrooms and higher end suites and diverted it to the world's most badass speakers and I gotta say, it was the right move.
When's the last time you stepped to a microphone to share a few words, or when's the next event you're hosting that includes music? If you're like me, you're pouring loads of effort into what you're going to say or play but not testing the audio until you stroll to the podium on plug in your playlist on the day of the event. Would you agree most of us spend more time deciding what to wear or what to serve for dessert than we spend optimizing the audio system? I'd estimate at least fifty percent of the events I've attended or, guilty as charged, in which I've participated had bad audio. Screeching mikes and weak volume too often rule the day.
Friends, we're making a mistake.  All the words you share and the music you select are worthless if your audience cannot clearly hear it.  In short, we overinvest in how pretty we look and we underinvest in how clearly we're heard.  And the lost opportunity cost is high.  How much does a fundraising banquet leave on the table if the evening's most inspiring message isn't heard?  How many lifelong fans does a football team lose when the game's pageantry dribbles short of our ears?  How many all-star employees will you lose if that speech on which you worked so hard falls flat?
The fix is simple.  Focus on the audio quality of your event as much as you focus on the words or music you plan to share.  And if you're in a bind, call up Penn State's audio engineers and ask them to help.  I wonder if Michigan would consider a trade?  Their quarterback for Penn State's audio engineer…  Seems like a win/win!